The Guardian 8 February 2018          Denis Campbell Health Policy Editor
Patients suffered 'significant harm' and staff who raised concerns were bullied, inquiry concludes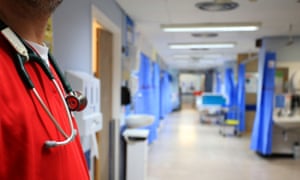 Liverpool Community Health NHS trust provided poor, unsafe and ineffective care to patients, the scathing report concluded. Photograph: Peter Byrne/PA
Patients suffered "significant harm" because of multiple serious failings by a "dysfunctional" NHS trust, an independent inquiry has found.
Liverpool Community Health NHS trust (LCH) provided poor, unsafe and ineffective care to patients, including inmates at HMP Liverpool, the scathing report concluded.
An independent panel, commissioned by the regulator NHS Improvement, also found that the trust had "a climate of fear" as a result of the harassment and bullying of staff who raised concerns.
The findings of the panel, led by Dr Bill Kirkup, are among the most damning of an NHS trust's actions since Robert Francis QC's landmark report into the Mid Staffs care scandal, published five years ago.
"The trust not only failed in its duty to provide safe and effective services, it concealed this from external bodies. Both patients and staff suffered harm for too long as a result," said the panel, which investigated LCH's conduct between 2010 and 2014.
The trust's board "became blind to the real concerns that began to arise throughout the organisation" as staff voiced anxiety about plans to reduce its headcount and the impact that would have on patient care.
"Serious incidents causing patient harm were not reported, not investigated and lessons not learned. The result was unnecessary harm to patients," the report added.
The panel highlighted a catalogue of failings by LCH, including that:
• It sought to achieve unfeasibly ambitious savings targets in a bid to become a semi-independent NHS foundation trust. While 4% is the usual upper limit of annual gains, it tried to save 15% of its budget in one year.
• The "drastic cost improvement measures" it decided to pursue mainly involved cutting staff, even though it was already understaffed.
• Staff who raised concerns about those plans suffered harassment, bullying and "extreme action", including being suspended for months at a time without being told what they had done wrong.
But mounting problems at LCH went undetected for four years because NHS local and national bodies, including the Care Quality Commission and NHS England, failed to monitor it properly, the inquiry found.
"Patients put their faith in the NHS, and they should be able to trust that dangerous and dysfunctional services will be dealt with immediately. Sadly that has not been the case here and it took the help of a local MP to sound the alarm, and many years for the full facts to emerge," said Jeremy Taylor, chief executive of National Voices, a coalition of more than 150 health and social care charities.
Ian Dalton, NHS Improvement's chief executive, said he would not comment on Kirkup's findings until March, despite their seriousness.
The Department of Health and Social Care said: "The leadership failings identified at Liverpool Community Health trust before 2014 were unacceptable and highlight the importance of fundamental reforms to patient safety that the government has made, including the CQC's independent inspection regime and the special measures programme, which identifies quickly where hospitals have difficulties and puts in place a comprehensive package of support to help improve care for patients."
The healthcare provided to prisoners at the Liverpool jail is being overhauled in light of flaws identified in care provided by LCH, NHS England said.
https://www.theguardian.com/society/2018/feb/08/liverpool-nhs-trust-dysfunctional-and-unsafe-report-finds