The Independent
Data collected by NHS whistleblowing body shows 7,000 staff came forward with patient safety or bullying concerns in 2017-18 but this is 'just the tip of the iceberg'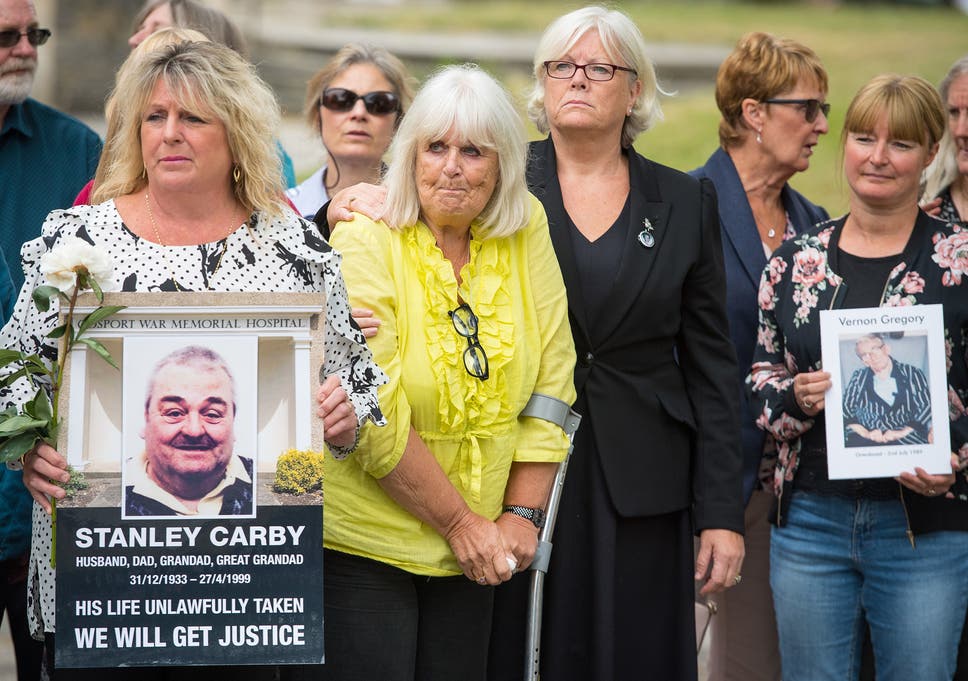 Families who lost loved ones at Gosport War Memorial Hospital heard on Thursday how up to 650 people were killed by unnecessary painkillers ( PA )
Hundreds of NHS whistleblowers suffered repercussions from colleagues and bosses last year, figures show – raising fears that hospital staff could be deterred from reporting problems.
Campaigners warned the issue could lead to a repeat of the Gosport scandal, after it was revealed on Wednesday that 456 patients were killed by unnecessary opiate painkillers at one hospital despite nurses raising concerns as far back as 1991.
Some 356 whistleblowers in 2017-18 said they had experienced repercussions, ranging from "subtle" persecution by closing off career opportunities through to being fired unjustly.
Patient safety experts and whistleblowers said that deaths like those at Gosport War Memorial Hospital were likely to be happening in other hospitals as staff still could not raise concerns freely.
On Thursday healthcare safety academic Professor Brian Jarman told BBC News the reality for whistleblowers in the NHS was "they're fired, gagged and blacklisted", and a third of staff say they would be concerned about speaking out.
Dr Minh Alexander, a consultant psychiatrist who blew the whistle on serious mental health homicides and suicides at her Cambridgeshire mental health trust, said there were countless ways managers could retaliate.
"There's a huge range of ways in which employers can persecute whistleblowers," she told The Independent. "They're too numerous to list exhaustively, but they can be subtle and beyond contractual redress through to gross criminal acts of harassment."
Dr Alexander added that the National Guardian's Office (NGO) – set up to ensure whistleblowing champions were in every trust in the wake unheeded staff concerns at Mid Staffordshire NHS Foundation Trust – was a "huge disappointment".
In 2016-17 more than 7,000 concerns were reported to NGO representatives at hospital and ambulance trusts. A third of these related to patient safety concerns while half related to issues of bullying and harassment.
Dr Henrietta Hughes, head of the NGO, said many of these now get resolved but one person in 20 say they faced recriminations as a result of blowing the whistle.
"The NHS has a very poor record in the past of supporting staff who have spoken up. I totally acknowledge that, but I'm looking at the current situation," Dr Hughes said.
"We collect data on whether staff feel they've had detriment [after raising concerns], 5 per cent of people who have spoken up have had detriment – we're talking 360 people".
All 230 NHS trusts are required to ensure that anyone who victimises staff who speak up "will be subject to the full disciplinary processes of the organisation" and the NGO monitors whether this is taking place.
"I've been going around asking 'can anybody give me an example of where you have acted on that detriment?' I've heard one example so far," Dr Hughes said.
While the 7,000 concerns raised in its first year was a good start, she said it was the "tip of the iceberg" and a lot of issues still needed to be flushed out.
"The more people who are aware this route exists and that it worked for them – that gives people confidence," she said.
It came as the daughter of a nurse who tried to expose the Gosport scandal claimed her mother had been hounded out of her job and driven to depression.
Sylvia Giffin was among those who first raised concerns about the poor prescribing and administration of opioids at the Hampshire hospital nearly 30 years ago.
Her daughter Penny Wilson told the Daily Mirror: "After my mum spoke up, they were at her for every single thing.
"It made her very unwell. They forced her out but tried to blame it on ill health."
Professor Jarman heads the Dr Foster unit at Imperial College London which uses health data to identify safety and quality issues emerging in NHS trusts and reports them to ministers and hospital chiefs to address.
He said these reports were not taken seriously by ministers and he would not be at all surprised to learn of more deaths, like those that took place at Gosport War Memorial Hospital.
"I've said I think there's a culture of denial, even a denial machine," he told the BBC.
"I hope the health secretary is not denying now. He will probably say they have set up the guardians in hospital to deal with people who are trying to whistleblow.
"But the whistleblowers that I have dealt with are not in the slightest bit encouraged by the guardian system."
The health secretary Jeremy Hunt said on Thursday that the NHS needed to be to end recriminations against staff with concerns.
"We make it much too hard for doctors and nurses to do that – they are worried that there will be litigation, they will go up in front of the GMC or NMC, the reputation of their unit – in some places they are worried they might get fired, so we do have to tackle that blame culture and turn that into a learning culture," he said.